---
How to learn food photography as professionals? Food Photography is one of the most attractive photography categories for photographers. In recent years, food photographers are one of the most required jobs in the Middle East and the Gulf region. Due to the booming in restaurants and hospitality services, food photography is becoming an important skill and career for photographers. Moreover, the rise of food startups including all types of food business from small restaurants to food delivery and bakery is increasing the need for professional food photography in Dubai, Cairo, Beirut, Amman, Kuwait, Doha, Al Riyadh, and Jeddah.
Eventually, while there is a huge demand for food photography, the market is still evolving and the skillset in many Arabic countries is not enough. However, there are highly professional food photographers in the UAE, Egypt, and Lebanon. Moreover, there is also high competition with photography agencies from the international market. Yet, the local Arabic talents still have a high edge since they are more advanced with understanding the local culture.
Understand the Arabic Food Photography Skills

Arabic food photography is a unique skill that requires a deep understanding of the Arabic consumer food culture, local cuisines, and the food style that appeals to the consumer. The first step to becoming a professional food photographer in Arab countries is to understand the consumer taste and food style.
Study the different local cuisines in the Levant region, Egypt, Morocco, Gulf, and Mediterranean cuisines before you start shooting. Each Arabic kitchen has it is own food style, colors, ingredient, and dinning culture. This will advance your skills on the set and will help your clients to deliver their right menu and marketing brand.
Create your own creative mindset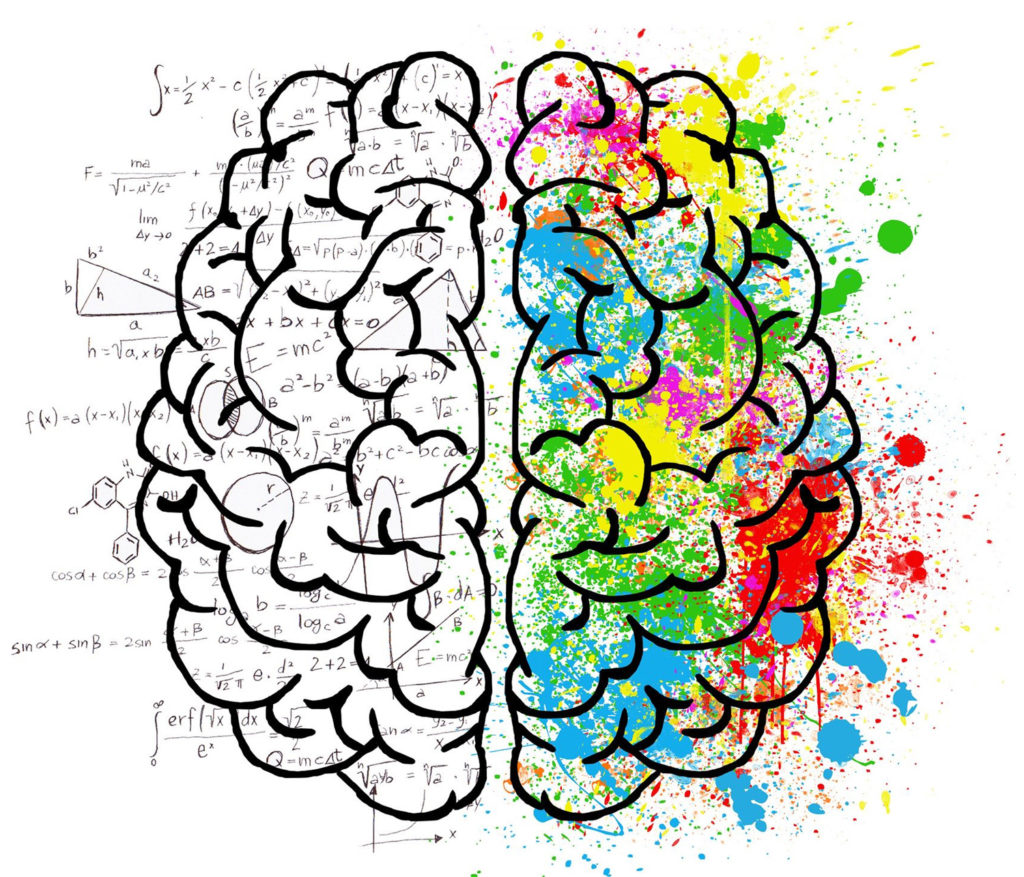 As a photographer, creativity is the first role. There are so many professional photographers who can capture and edit a high-quality photo, yet when it comes to food as an element, it is important to have your own creative style.
At the beginning of your photography journey, creating quality work is most likely going to be your first concern. However, developing your identity is what going to last and will make you stand out among other photographers. Think creatively and set a plan to develop your art of photography. Quantity of photography is important and setting up a commercial portfolio requires time, but creating your own creative mindset is the key to position yourself in the market.
Start Food Photography Courses Online
Online food photography courses are one of the most advanced shortcuts to learn food photography and to enhance your skills in a short time. Learning from professional food photographers will provide you with the main fundamentals of food photography tips, lighting tips, camera settings, propping and styling, and most importantly, how to edit your work for your customers.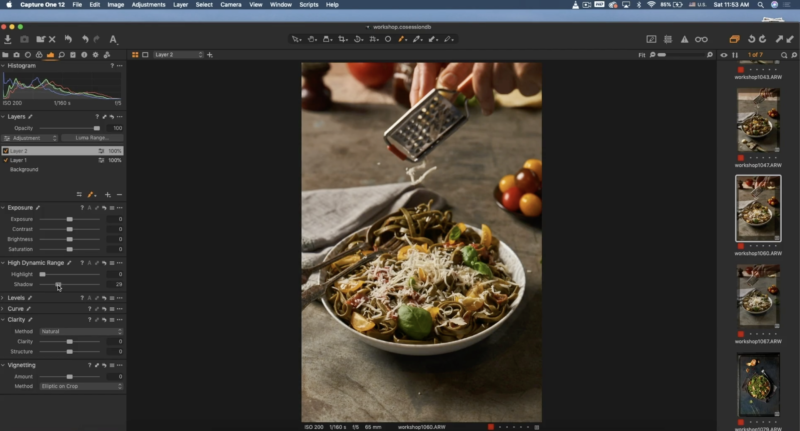 In Art and Creativity, we worked with one of the most influenced food photographers in the Arab world, Yehia El Alaily to provide an online food photography course. With 12 lessons, the course represents the essential knowledge of food photography as well as live tutorials in the studio. Yehia El Alaily in this course takes you into an entertaining journey to learn the most effective hacks and tips of shooting food and he will also teach you to edit your food photography work.
Navigate and consume different experiences
Have a good time of your day with browsing and exploring beautiful food imagery from around the world and locally. Develop a daily habit of chasing food photography beautiful art. It will give you ideas and will refresh your imagination as a photographer. By searching for beauty, you will understand by time how to move your emotions before taking a new picture.
Build a consistent portfolio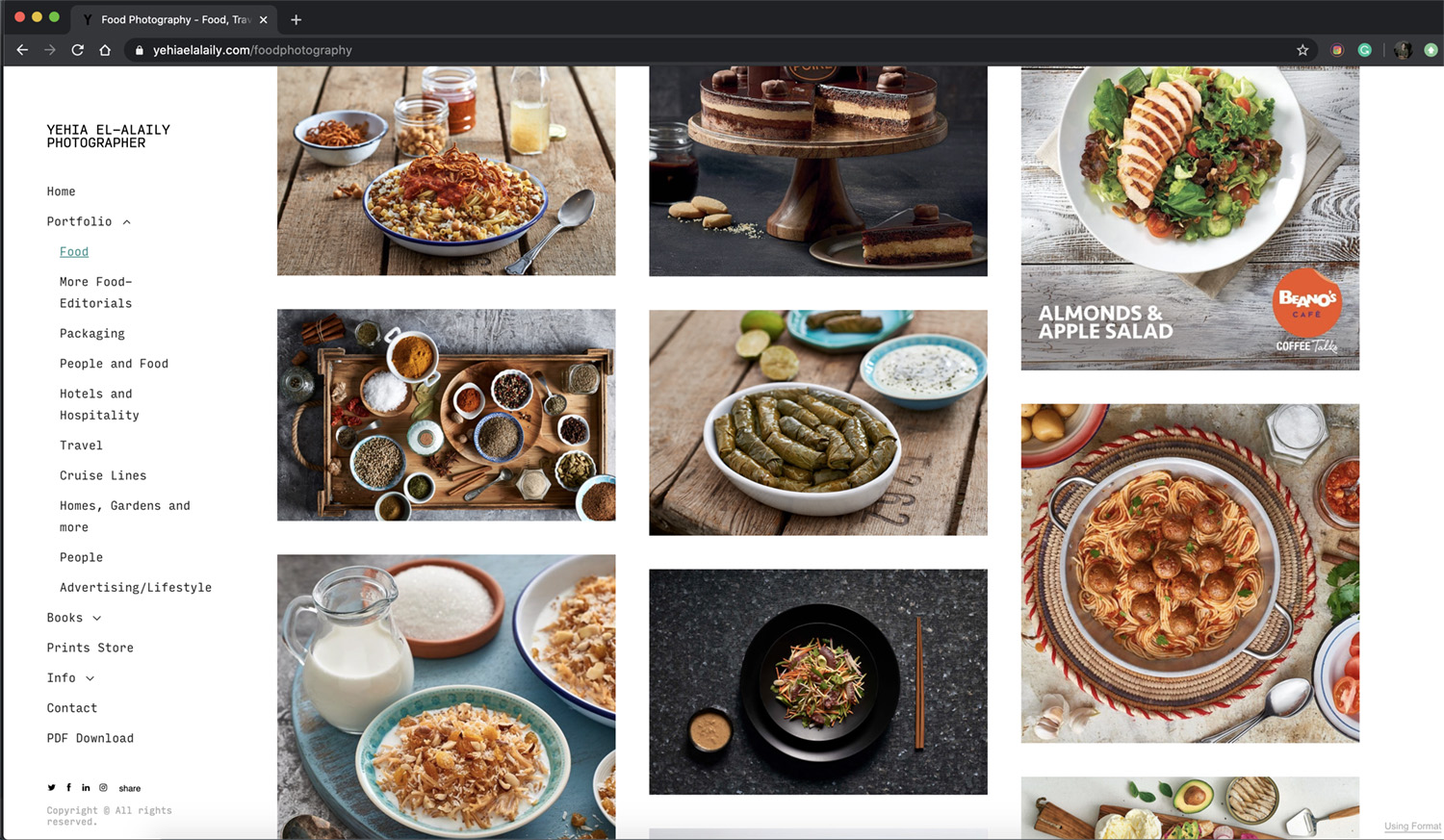 One of the most valuable tips by professional photographers is setting a consistent portfolio. While some would focus on the brands they worked with and the different markets they attended across the Arabic countries, the most important factor is your identity. The portfolio is a reflection of who you are, and in order to be successful with food photography, it is crucial to create your quality, theme, and style. When you start your food photography learning it is important to get some classes about how to create themes with your work. The photo above is the website of our instructor Yehia El Alaily 
Plan before you start shooting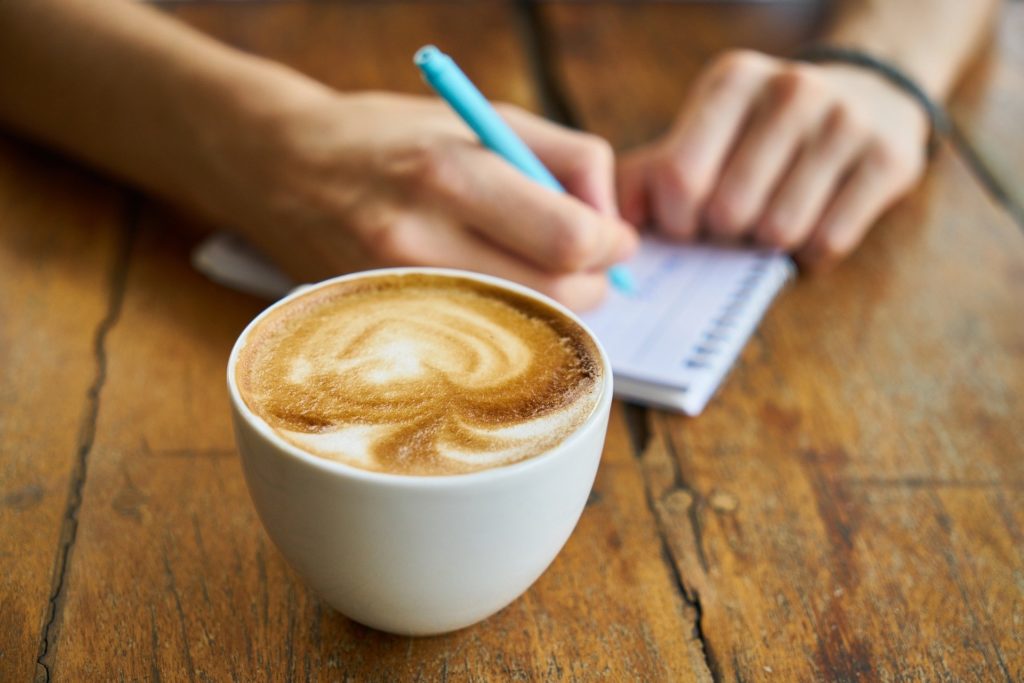 Professional photographers tend always to plan using sketches and storyboards before they start. In food photography, it is critical to start planning before you prepare the set and get into the studio. Shooting dishes, food, and beverages depend heavily on the preparation.
You will need to create a story you want to tell and choose the right content for it. Choosing the color palette, food style, accessories, lighting direction and all elements related to the composition are highly effective steps of the planning process.
Therefore, professional food photographers, have a good time in preparation and planning before starting a food photography session. This to help them focus on creating efficient photography and managing their time probably during the shooting and post-processing.
Learn the essences of food photography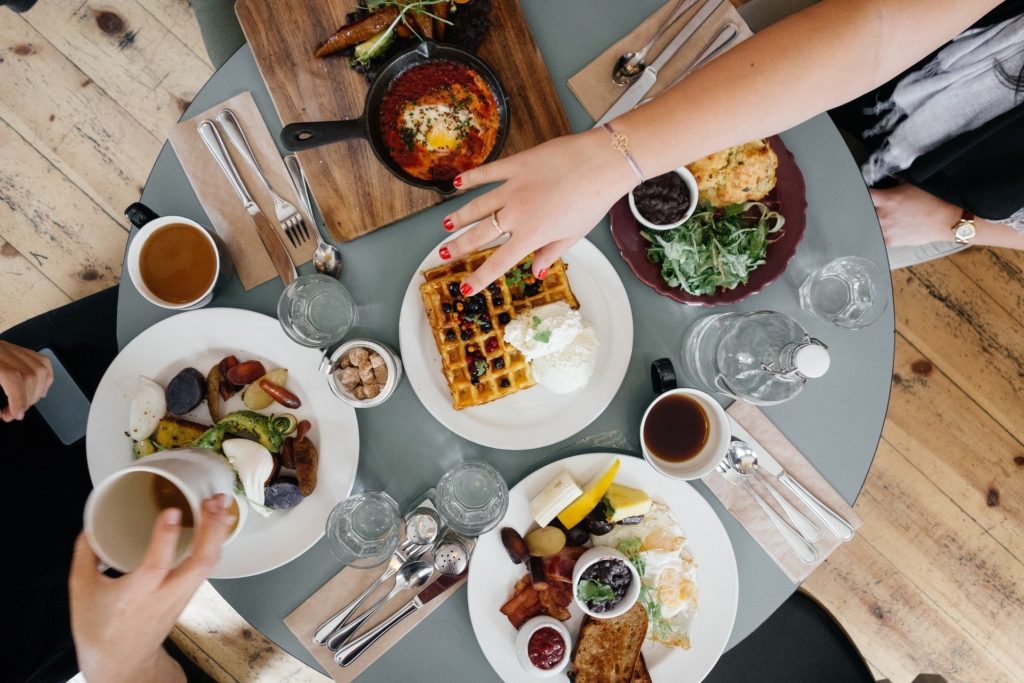 Food photography is different than other categories of photography. While portrait, fashion, and makeup photography are about human as a hero, food photography is about the food object and human emotions. It is a tricky part when you start to learn food photography. Some might think that food styling is the main key behind capturing an outstanding food image, the emotions and imagination is the key to master food photography. Understanding the motives of the human being when they see food, or their mental picture of the food experience or cuisine is meant to be a pleasure.
Food photography is more than just food, it is about colors, shapes, textures, and even an imaginary smell and taste. Think of arranging every frame as a chief and as a person who is going to eat it. Combine these feelings in your frame and food styling then craft the shot with your professional photography skills. That's the real essence behind food photography art.
Avoid the top mistakes in food photography
Avoiding mistakes and poor techniques can help a lot in achieving good skills in a short time. Eventually, food photography in Egypt, Kuwait, and Saudi Arabia have so many poor techniques by amateur photographers that you can easily spot. Moreover, food photography in the UAE has also some cases of low-quality food photography practices.
Studying mistakes can eventually help you in gaining further steps in your career as a food photographer. Therefore, we will explore some of the most important tips to enhance your food photography.
Avoid holding on one level and experiment with different heights. Change your angles with different visual elements
Don't carry the camera most of the time and use a tripod. It is one of the most important tips especially if you are a beginner in food photography
Some of the photographers and food bloggers avoid shooting using tethered. It is important to use the tethered which allows you to see your pictures in real-time and to adjust your lighting
Zooming and managing spaces is a common issue for food photography in the Middle East and Arabic countries. It is important to manage the negative space effectively and to give some room for the element to breath
Choose your shooting angle before you start styling the food. Experience with your camera angle and lighting before you decide on the final food style
Master the balance between depth of field and shutter speed. It is an important skill to learn in order to capture the right style of the dish story
It is important when you learn to food photography to avoid using any background and make sure you are using a high-quality one. Invest in the background to create a signature look. Natural colors such as wood texture are one of the most common quality backgrounds to start with
Focus on the strength of food style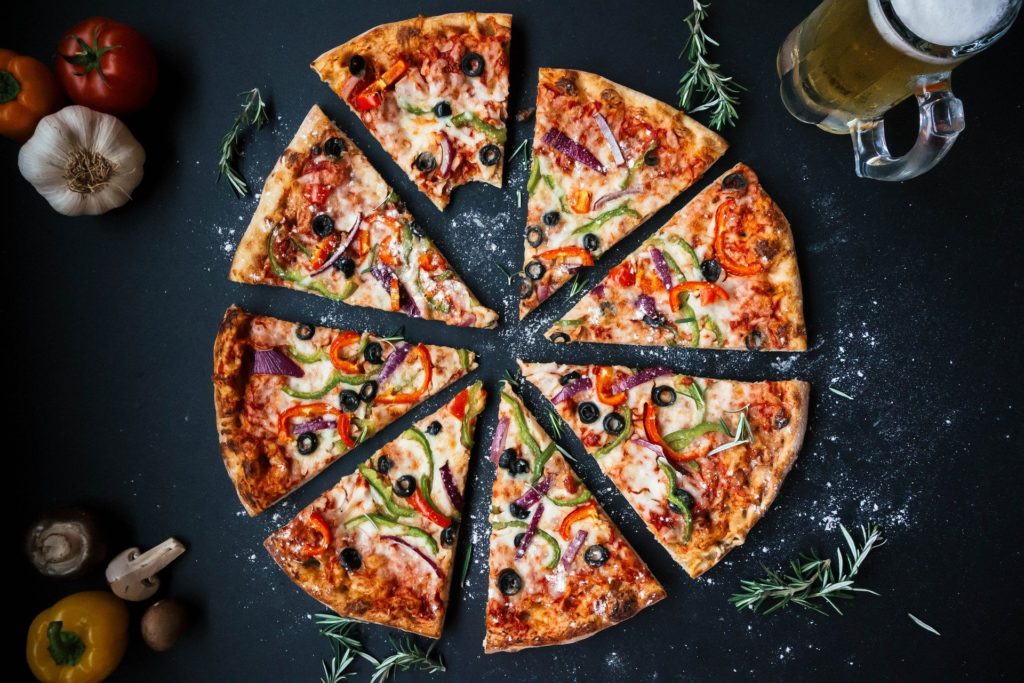 With food from around the world, it is important to understand the dish or the meal before presenting it. In Arabic countries, each dish has it is own presence in the daily culture and its own mental image. Research and find out what each dish represents the local culture. While you learn food photography it is important to know that in some countries in the Middle East, some dishes are like movie stars and have their own atmosphere, occasion, and even quotes and traditions.
Therefore, the food styling should consider all the strength factors of the dish, and even it is background tradition. Falafel has different ingredients and meanings that differ in different countries such as Egypt, Lebanon, and Syria. The same dish will have a different perspective when it is represented in the GCC countries. That's where the food style plays an important role to make the dish authentic and appealing in different places.
Food styling for deserts and bakery might become a very different perspective in each country according to its tradition. For instance, Arabian coffee is an important element to the Gulf region as part of the dessert presentation. Eventually, food styling for Arabic food requires an in-depth understanding of Arabic food cuisine and dining traditions.
Finally, starting your career and to learn food photography requires dedication and soft skills such as the ability to present yourself and to communicate with the client. While this sounds like hard work, the opportunities in all countries are wide open due to the massive demand for food and hospitality industries. Stepping into the field and learning food photography can provide you with a combination of profitable career and joyful art. An online food photography course is an important step to consider in this journey.